Tripawds is a user-supported community. Thank you for your support!
Hooray! Roxy is home again and I couldn't be happier. I'm so proud of how well she is getting around. Stairs are still a challenge, though.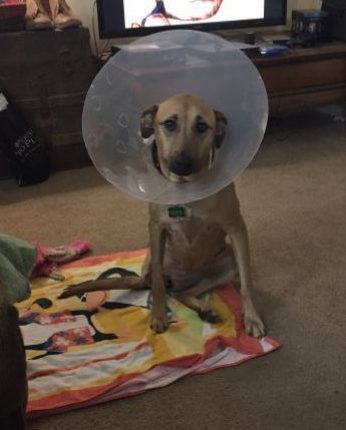 I was able to get her at 4:30 yesterday and before we left, I finally got answers to my page and a half of questions. The tech showed me how to do a towel sling (which we still haven't got the hang of) and talked me through all of the medicine coming home with us. There's a lot of it! An antibiotic and a few for pain. The first time the vet gave us medicine, we tried Greenies Pill Pockets. She loves the duck and pea flavor! We haven't had any problems giving her meds this way. It's like a special twice a day treat for her.
She is still figuring out how to sit down, but she walks around like a champ. Stairs are especially challenging as our basement apartment has 12 steps. Coming down isn't so hard, but going up seems to be much scarier or more uncomfortable for her. And she doesn't like the towel sling at all. I'm wondering if some kind of temporary ramp can be put in place so we can just walk right out of our sunken patio.
I still feel badly about taking her leg away, even though I keep reminding myself it's for the better. It's going to be a long 10-14 days waiting for the incision to heal but we will take it one step–or hop–at a time!